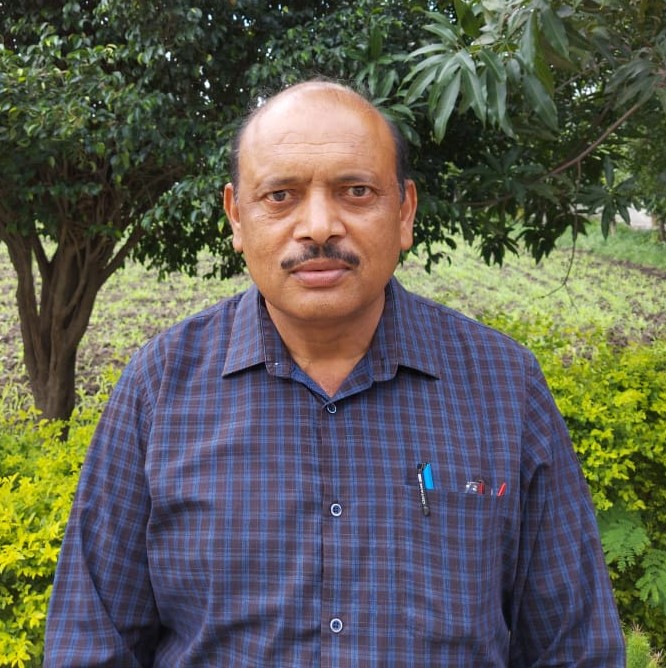 Description:-
He has joined his duties as a Technical Assistant in the year 1986. In the year 1995, he has been selected as Training Associate. He is presently the Head of KVK Ujjain. He has more than 35 years of diversified experience in agriculture and allied activities specialized in

a. Decentralize planning
b. Use of participatory tools.
c. Convergence of services

SUMMARY OF WORK AT KVK SYSTEM
A. Extension Activities:
Special Day Celebration:81
and Innovative Technology developed: 02
B. Publications:
Research Papers Published 64
Booklet/Bulletin 19
Chapter in Books 11
Book(ISBN 978-81-7622-387-4) 01
Abstract Published 58
Manuals 05
Research Papers Presented 29
Popular Articles 98
Technical Bulletin 17

His Vision:
Re-orienting and modifying the course curriculum to suit the demands of the job markets and to bridge the mis-match between manpower demand and availability in different areas would be the priority.
In curriculum, post harvest technology, agro-processing value-addition, marketing and entrepreneurship development as well as management intricacies would be given emphasis.
Agricultural Education should be made innovative to absorb futuristic trends and skill orientation rather than based on note-memorization of new knowledge.
Agricultural Education System should produce professionals and for that, the system has to balance between classroom teaching and practical sessions and experiential learning based on actual work-based experience.
Establishing and creating facilities/infrastructures for in-plant experiential learning in Agricultural Colleges.
Revamping Agricultural Extension Education
Transfer of Technology Mode to Technology Application Mode.
Group approach and farmers participatory approach to Agricultural Extension.
Involvement of community-based organizations.
Associating stake-holders in Extension.
Formation and training of self-help groups and extension through them.
Rural location - specific knowledge centre.
Need-based, problem-solving, skill-based vocational training for self-employment for farmers, farm women and rural youth.
Shift to commercial farming and agri-business approach in Extension